Chocolate Zucchini Muffins
Greetings Happy Healthy people! I found this great article and recipe for zucchini muffins! I am excited to try these and all of the ingredients are FBT APPROVED. I found this article on PaleoGrubs.com you can find this and more recipes like it here.  Enjoy! Coach Crystal
"Chocolate Zucchini Muffins"
BY REBECCA BOHL
Chocolate zucchini muffins aren't usually associated with the words healthy, natural, and gluten-free, but all three of those things apply to this recipe. Light, fluffy, and moist, are three more words that aptly describe these muffins. They taste like they should not be good for you, but healthy fats from coconut oil and antioxidants from dark chocolate are both beneficial to your health. And did I mention there's even a vegetable component?
Zucchini is the secret hidden ingredient that you slip into the muffins and then have your kids guess at. Yes, that's right, you are eating your vegetables. You cannot taste them at all. Not even a little bit. For the times during the summer when zucchini is in abundance, I will definitely be making more of these muffins. Though the muffins only use about a cup of zucchini, I would feel perfectly comfortable making double (or triple) batches and taking them into the office or to parties to share. When cooking, just make sure to ring out any excess moisture from the zucchini so that it doesn't make a way into the muffins. That's not the kind of moisture you want.
Something this rich and delicious might normally be associated with cupcakes. But that word suggests only dessert, when the opposite is true. These would make a good grab-and-go breakfast or a healthy snack. I would even feel comfortable putting these in a kid's lunchbox. Kids would satisfy their sweet craving, not knowing they are eating their proteins and healthy fats. Almond butter is really the star of the recipe. I believe almond butter is the main reason the muffins turn out so moist.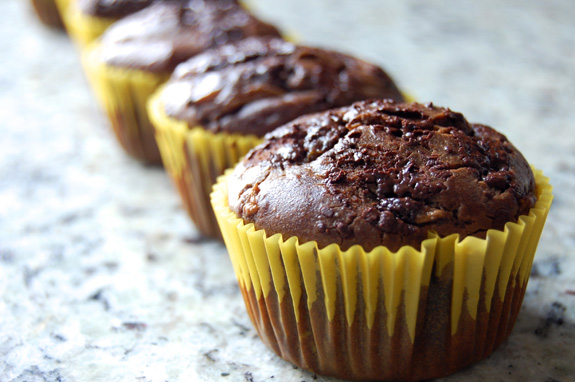 Ingredients: Remember Organic is usually best 🙂
1 cup almond butter
2 Farm Fresh eggs
1/4 cup maple syrup
1 tsp vanilla extract
Pinch of salt
2 tbsp coconut flour
1-2 tbsp cocoa powder
1 tsp apple cider vinegar
1/2 tsp baking soda
1 cup shredded zucchini
1-2 tbsp paleo approved dark chocolate, chopped into small pieces
Instructions
Preheat the oven to 375 degrees F. Line a muffin tin with cups. Squeeze any excess moisture out of the shredded zucchini. In a medium bowl, mix together the almond butter, eggs, syrup, vanilla, and salt. Stir in the coconut flour and cocoa powder. Add the vinegar and baking soda and stir to combine. Fold in the shredded zucchini.
Add about 1/4 cup of batter into each muffin cup. Sprinkle with the dark chocolate pieces. Lower the oven heat to 350 degrees F. Bake for 20-25 minutes, or until a toothpick comes out clean. Serve warm.
Notes
Servings: 8 muffins
Difficulty: Medium